gPOS allows you to switch on/off your receipts for dine in orders. You will be able to enable/disable kitchen tickets, receipts, and pre-receipts.
To enable/disable the different types of receipts, kindly follow the steps below:
From the main dashboard, click on the settings button on the top right of the screen.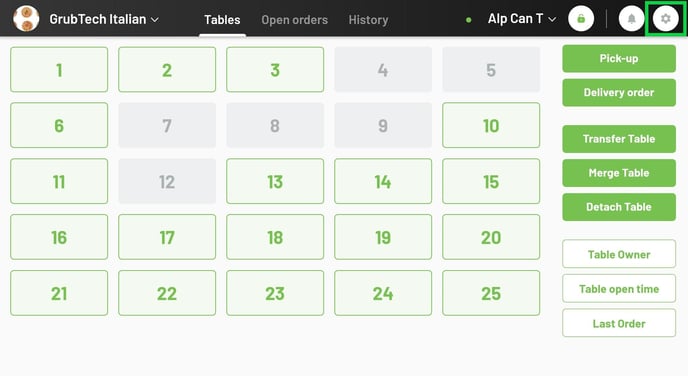 You will then be directed to the settings dashboard.
Select Configuration from the sidebar menu on the left side of the screen.
Click on Printer & receipt.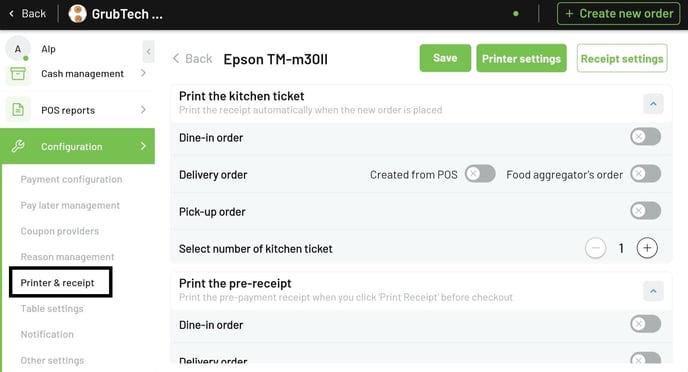 Select the type of receipt you wish to enable/disable for the types of orders (dine-in, pick up, delivery).
To disable the type of receipt (kitchen ticket, receipt, pre-receipt) click on the toggle button that is green and it will be disabled.
To enable the receipts that are disabled, kindly follow the same steps mentioned above.
Please note 💡: If the toggle button is grey: The feature has been disabled.
If the toggle button is green: The feature is enabled.

You have successfully enabled/disabled the different types of receipts for your orders.