If you wish to create a new catalog item (ingredient or package) for your inventory, please follow the steps below:
Click on the Inventory tab on the left side of the screen and choose the subcategory Catalog.
Click on the + New Catalog Item button on the top right of the screen.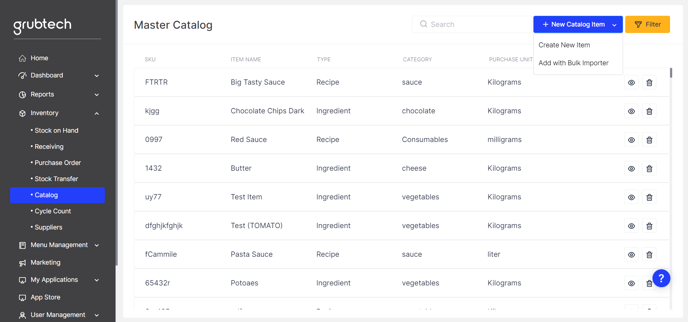 Click on Create New Item from the drop down menu.
Select the type of items you wish to add to the catalog (Ingredient, packaging, recipe).
Add in the Item information:
Item Name
Item Brand Name. This step is optional.
SKU (Stock Keeping Unit) Your items will be linked to this number. You can either use an SKU that you have been using outside of GrubTech or you can create your own.
Barcode. This step is optional.
Description. This step is optional.
Select the Item Type. (Ingredient/ Packaging)
Add a category.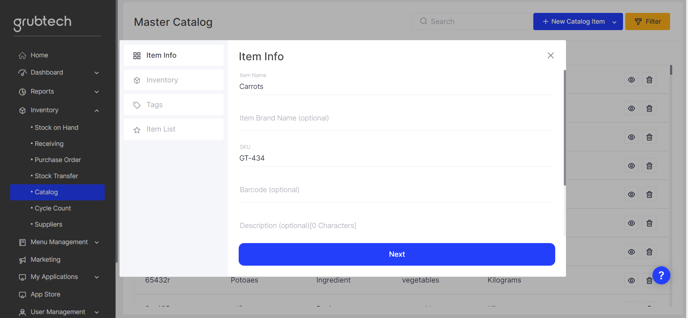 Add the information for Inventory:
Purchase Unit.
Consumption Unit.
Yield Percentage.
Suppliers. This step is optional.
Brand(s). You can link multiple brands to an item.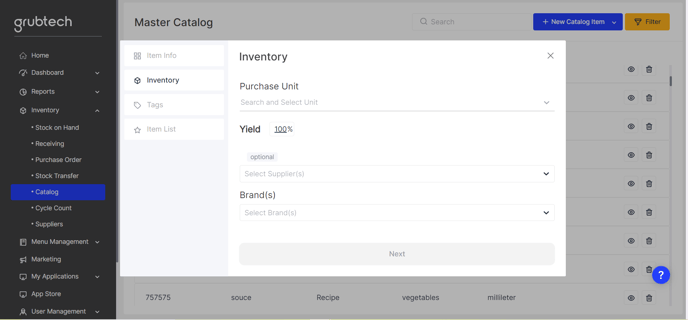 Please Note 💡: It is advisable to link your catalog item a supplier so that you can directly place orders through GrubCENTER. You can also link multiple suppliers to your items. To learn how to link multiple suppliers to an existing item click here.
Click Next.
Add your Tags. This step is optional.
Click Next.
You will then be able to see the summary of your Catalog Item.
Click Done.
You have successfully created a new catalog item.