In order to create a user, you will first need to create a role and group. To learn how to create a Role click here. To learn how to create a group click here.
To create a user in GrubCENTER please follow the steps below:
Log into GrubCENTER by clicking here.
Click on Settings from the dropdown menu on the left side of the GrubCENTER dashboard.
From the Settings dropdown menu, Click on Users.
You will then be able to view the User dashboard and will be able to view all the existing users.
Click on the '' + New User'' button on the top right of the screen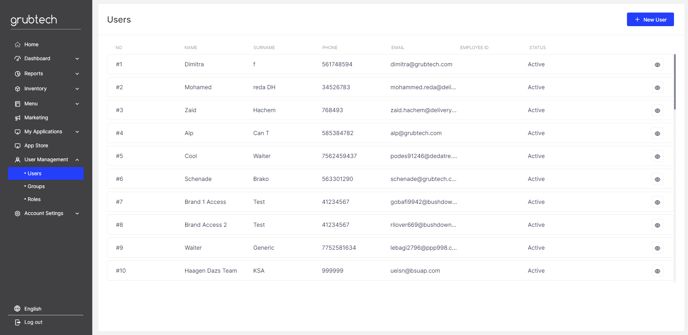 Enter the Following User Information:
Name
Surname
Telephone Number
Email
Employee ID. This step is optional.
Assign Group(s). This step is optional.


Click Next.
Assign the Role(s).


Click Add User.
You have successfully created a user and assigned them to a role.
The user will then receive a temporary password on their email and will be able to log in to GrubCENTER using their email and temporary password to activate the account.
Please Note 💡: The temporary password is valid only for 24 hours and the user will need to log in, activate their account, and set up a new password using the temporary password. To learn how to activate a user click here.